Laser: The Future of Dentistry
Posted by OC ADVANCED PERIODONTICS on Jan 8 2023, 11:22 PM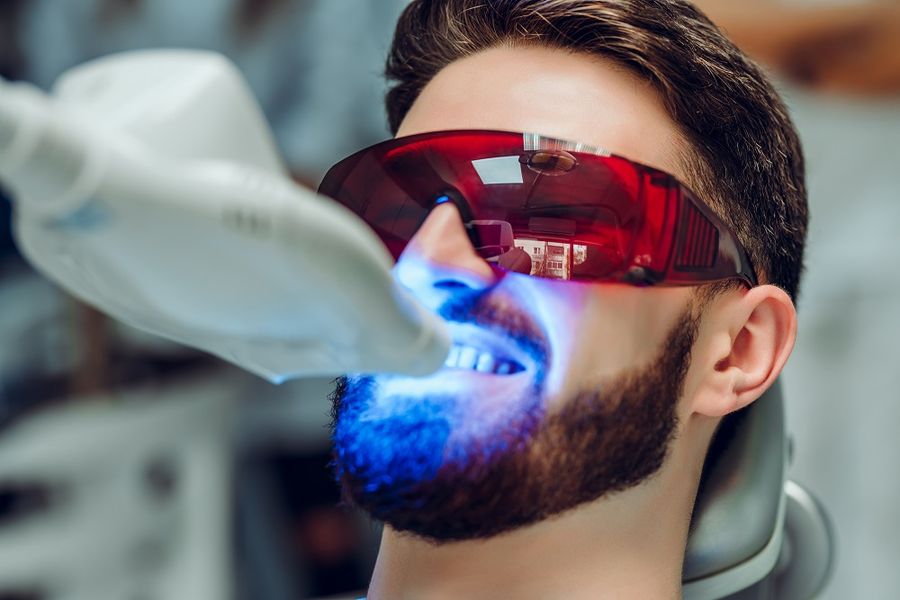 Laser dentistry is a fairly new field in which lasers are used to complete common dental procedures. It is becoming a popular alternative to conventional methods because it makes treatment more exact, and patients tend to experience less discomfort during procedures like cavity preparation and tooth whitening.
Dental lasers are small devices that emit radiation in the form of light wavelengths. Lasers can be used to shape gums during a crown lengthening procedure or to remove diseased tissue during a root canal. Lasers are also used to treat gum disease by targeting the bacteria that cause the disease with intense bursts of heat.
Benefits of Laser Dentistry
The benefits of laser dentistry are many and can include the following:
Reduced pain or discomfort during dental treatments
Less bleeding and trauma to surrounding tissues
More precise and faster treatment
Quicker healing after a procedure is completed
Increased comfort during and after a procedure
Faster recovery time between procedures
Fewer injections or anesthesia are needed in a procedure
Fewer referrals to specialists for treatments
Fewer complications from certain dental treatments
Reduced need for pain medication after the procedure
Ability to perform more procedures in-house without the need to outsource to a specialist
Ability to perform a wider range of dental procedures in-house without the need to outsource to a specialist
Ability to treat gum disease without surgery
Lower cost of treatment
A laser is a concentrated beam of light that cuts through oral tissue like a knife. Unlike an abrasive drill, a laser uses heat energy rather than friction. The heat from the laser beam activates a photosensitizing solution in the soft tissue. This chemical compound absorbs the light and then converts it into a gas state, thereby reducing the transmission of pain signals to the brain. As a result, a patient experiences little to no discomfort during treatments. Many patients even report feeling no sensation at all! Laser technology even makes it possible to remove overgrown gum tissue without anesthetics or drills. The process can eliminate the need for gum grafts, which can cause painful recovery periods for many patients. Laser dentistry offers many benefits over traditional treatments and is making great strides in changing how dentists approach dental care. 
Dental Decay Treatment
Unfortunately, tooth decay is a common phenomenon that plagues millions of adults and young children every year. This is why dentists employ a number of innovative technologies to make procedures as quick and painless as possible. Laser dental treatment is no exception. This highly advanced tool allows your dentist to eliminate cavities and tartar buildup without requiring anesthesia.
Cavities are a major oral health issue affecting a majority of dental patients. Untreated decay can turn into a serious infection that can cause tooth loss and even spread to other parts of the body. Fortunately, laser dental treatment allows you to avoid the need for invasive oral surgery in many cases. The dentist can perform your procedure in his office without the need for lengthy recuperation or sedation.
Gum Disease Treatment
The laser can be used for treating gum disease, including deep periodontal pockets around the teeth and gum recession. The procedure is non-surgical and painless. A dentist can perform a laser gum surgery using a soft tissue diode laser or a hard tissue CO2 laser.
Soft tissue lasers use a wavelength that targets the blood vessels in the gums to instantly treat inflammation. Hard tissue lasers work more slowly than soft tissue lasers but are capable of removing plaque and tartar buildup from tooth roots as well as hard deposits on the teeth.
Patients undergoing laser gum surgery can experience fewer side effects and faster healing times compared to traditional surgical methods. They also benefit from less bleeding and less discomfort after the procedure.
Patients who undergo laser gum surgery typically need to follow specific post-operative instructions to ensure proper healing of the gum tissues. It's important that patients follow all aftercare instructions to avoid infection and further complications.
To learn more, schedule an appointment with Dr. Huston at OC Advanced Periodontics by calling (714) 730-7877 or visiting us at 1076 E 1st St STE F, Tustin, CA 92780.